Organization Information
CFC Code:

73141
1
Your Cart
Add to Gift Cart
Children's Food, Healthcare, Shelter and Education Fund
(aka) Aid for Kids

120 Military Street
Houlton, ME 04730
Phone
207-768-8412
about
Making life better for children and families in the US, Vietnam. We feed hungry children living in poverty, send doctors and life-saving medicine to remote areas, and offer education & training to children, so they can build brighter futures.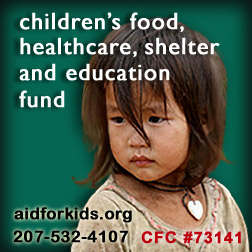 Success Story


The form of birthcontrol in many countries is abortion - late term abortion is common. While we discussed the most pressing needs with Sister Mary Linh, orphanage director, she said she really needed help in developing a counselling program for pregnant women to tell them they did not have to abort and they did not have to parent the child they were carrying - they could place their baby for adoption - a new concept in this outlying area. Then she told this story:

The nuns had received permission to clean, wrap, name, pray over and give the aborted babies the dignity of a funeral. They would go when called by the clinic to get them. Soon the clinic began charging $7.00 for each baby. It was difficult to feed and care for the many children in their center. They prayed for answers - should they continue to bury the dead babies or should they use the money to feed the living children? They decided to do it one more time. They brought the sack of seven dead babies to the convent and were cleaning them when one began to cry. Such a tiny baby - she appeared healthy. They asked a local nursing mother if she would nurse the baby - and they would feed her other children. The baby not only survived - but was the two year old I had been carrying around all morning. And, yes, the plan for this beautiful little one was adoption. Education on birth control and adoption as an option is needed in all countries.