Organization Information
CFC Code:

10429
1
Your Cart
Add to Gift Cart
Pacific Crest Trail Association
2150 River Plaza Drive, Suite 155
Sacramento, CA 95833
Phone
916-285-1846
about
The Pacific Crest Trail symbolizes everything there is to love and protect in the Western US. From deep forests to majestic mountain ranges, we help to protect and preserve this 2,650-mile trail for hikers and equestrians to experience and enjoy.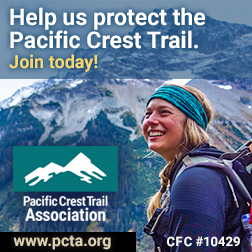 Success Story
Digging up 100- to 300-pound rocks and hammering fist-size stones into gravel to make trail cement, "I thought I was going to die," Lisa Farr said laughing. Laughing about her volunteer trip busting boulders on the Sierra Buttes project with a trail crew — teenage to early 20s. Lisa is twice their age. "You learn really fast how to use proper body mechanics and to switch sides," she said.
That was 2016. The previous year, Lisa worked with her first crew rebuilding steps in the trail using large granite boulders.
"I learned how to work as a rock-moving team," she said. "I had so much fun with that crew I met up with them again to do trail maintenance by Chimney Peak, just east of Bakersfield, California. My notable accomplishments include digging an awesome latrine and finding my first scorpion."
With limited volunteer time and resources, trail crews work on those areas which will have the most impact. A big priority is removing downed trees so hikers will not be damaging the land to get around the obstacles. They also do tread work, which includes re-sloping the trail so the water is not flooding or eroding the path.
In 2017 Lisa became an official trail "adopter" agreeing to maintain 15 miles of the PCT. "No matter what your skill level, you show up and contribute what you can. It doesn't matter how old you are. Everybody is so nice and helpful," Lisa said.