Organization Information
CFC Code:

54766
Your Gift Cart is empty. Give it purpose - fill it with charities to receive your donation today.

Make a Donation
American Indian Education Fund
(aka) Partnership with Native Americans

13318 Airpark Drive
Elkwood , VA 22718
Phone
800-416-8102
about
Native American students on isolated reservations are facing many challenges: 35% are impoverished, about 50% drop out of high school and only 13% graduate college... but more want to. Please help us help them with vital scholarships and school supplies.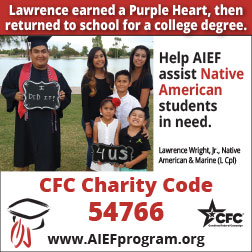 Real Life
Lawrence Wright, Jr., a Native American from Ohkay Owingeh Pueblo, and U.S. Marine Corps veteran, 3rd Battalion 7th Marine Regiment (3/7), Weapons Platoon, Lima Company, enlisted, served 3 tours in Iraq and earned a Purple Heart, all before college.

His 1st tour began in Karbala in 2002. He came home in 2003 only to begin training for a 2004 deployment in hostile zone Husaybah near the Iraqi and Syrian border, where his unit sustained many casualties and Lawrence sustained shrapnel and explosions from enemy mortar fire. Evacuated by MEDEVAC for 6 months of rehab, a piece of shrapnel remains embedded in his shoulder. His 3rd tour of duty began in Ar Ramadi, where he faced two close calls with IEDs and was shot at by sniper fire. Lawrence was awarded the Purple Heart in September 2004.

At last home in 2006, Lawrence continued supporting public safety, first graduating from the Indian Police Academy, FLETC (Federal Law Enforcement Training Center), and then from the University of Phoenix with a Bachelor's in Criminal Justice.

"A big part of my motivation comes from my brothers [Marines] who sacrificed their lives in Iraq. I try to make something of myself - that's how I honor them."

To support counter-terrorism, Lawrence is now pursuing a Master's in Emergency Management and Homeland Security at Arizona State University. His VA benefits exhausted, he turned to AIEF and other scholarships for help fund graduate school.

"Most tribes have very little funding to assist their tribal members - AIEF has helped me a great deal. We need more support, resources and scholarships like AIEF for the Native youth."